Office Removals Covent Garden WC2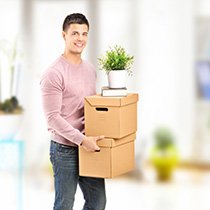 Efficient and Professional Covent Garden Office Removals Services

At Man with Van Covent Garden, we understand just how important it is for your business to keep moving. That's why our Covent Garden office removals teams provide the most comprehensive and reliable removal services available in WC2. Our staff of highly-qualified experts will take all the stress and strain out of your relocation, allowing you to focus on more important things, such as running your business.

We handle all manner of office removals jobs, from disassembling office furniture to packing up boxes full of paperwork ready for transport. Furthermore, we use only the latest equipment, including advanced trolleys that can carry heavy load with ease, meaning your firm's belongings are always safe and secure in our care. Moreover, once everything has been moved to its new destination, we will also unpack and reassemble any furniture if requested. These extra services come free of charge and ensure that the process runs as smoothly as possible for you.

In addition to this, throughout the entire move, your business will have access to a dedicated Project Manager who will be there to answer any queries or address any issues that may arise during the relocation. At Man with Van Covent Garden, customer satisfaction is our number one priority and every member of staff member adheres to this policy at all times.

Affordable and Flexible WC2 Commercial Relocation Services
What sets our Covent Garden office removals services apart from those offered by other companies in WC2 is our commitment to offering extremely competitive rates without compromising on quality. We understand that pricing is an important factor for many businesses when deciding whom to choose for their removal needs and that's why we strive very hard to offer our clients the best value for money around. For a free quote, simply give us a call on
or drop us an email - we'd be more than happy to discuss further details with you and give you an estimate based on your individual requirements.

Additionally, our flexible hours make us the perfect choice for businesses who need to move quickly and efficiently without disrupting their day-to-day activities too much. Whether it's the weekend or a late evening on weekdays - we are here to help whenever it suits you best! Just get in touch via phone or email and let us know when you'd prefer us to come over and take care of your relocation needs.

Overall, at Man with Van Covent Garden, we pride ourselves on offering comprehensive office removals services in Covent Garden WC2 while maintaining workplace efficiency during particular timescales. We use only the best removable equipment available in order to guarantee smooth transit with minimal disruption in your daily schedule. As well as having highly trained staff professionals taking care of your office move round-the-clock - all at very reasonable prices! So if you need an experienced team of professional movers in WC2 area -- don't hesitate -- get in touch today!